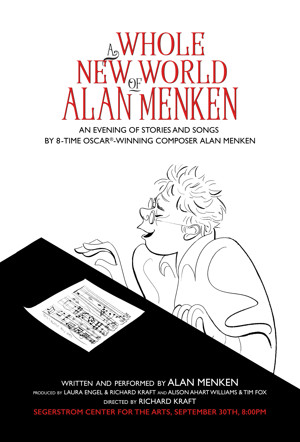 Last night I had the privilege of attending the debut performance of "A Whole New World of Alan Menken" at the Segerstrom Center for the Arts' Renée and Henry Segerstrom Concert Hall. The delightful one-man show featured countless stories and songs from his career as an award-winning composer for Disney, Broadway, television, etc.
Alan Menken has received many prestigious recognitions for his musical talents (including 8 Academy Awards). Some of his most well-known scores include musicals/films/shows like Little Shop of Horrors, Little Mermaid, Beauty and the Beast, Aladdin, Pocahontas, Hercules, Hunchback of Notre Dame, Newsies, Tangled, Enchanted, A Christmas Carol (musical), Sister Act (musical), and the recently popular television show Galavant, for which he composed 80 songs for just 18 episodes.
It was quite an enjoyable experience getting a glimpse into the life of this composer! The stage was set with a single beautiful grand piano and three screens, which would show close-ups, screen shots from films and musicals, photographs, and brief clips of interviews or collaborations in composing. Throughout the show, Menken would take turns performing his songs (playing and singing) and telling brief stories about his personal life, career, and the development of each film, musical, or song.
Menken kicked off the night with a rousing performance of "Make Way for Prince Ali" from Aladdin. After a quick image of his awards cabinet ("Look at this stuff? Isn't it neat?"), he went right into the story of how he became a composer. Menken shared what it was like to work on musicals in New York, how he began working for Disney, and how it was to collaborate with lyricists such as Howard Ashman, Tim Rice, Stephan Schwartz, and Glenn Slater.
The show was presented in a very real, comfortable, personable way. Menken's performance style was fast, fluid, and organic; it felt almost like he was improvising the entire time. The stories included funny tales about how this or that song came to be as well as moving stories about how discouragement over career failures, the 9/11 attack, and the death of his collaborative partner Howard Ashman affected him. At the end of the show, we were honored to hear a premiere performance of a new song written for the live action Beauty and the Beast film, set to release in 2017.
I loved the whole show, but the best parts for me were hearing his songs as performed by HIM (not another artist's interpretation) and hearing his stories about the collaborative process. One amusing story was about how he wrote this "dumb melody" for Ashman to write lyrics to, then tried unsuccessfully to rewrite the music until finally they decided to go with the original "dumb song" (now easily recognized as "Be Our Guest" from Beauty and the Beast).
Alan Menken's music has inspired me throughout my life. In fact, my first official piano arrangement of someone else's music (I wrote out the sheet music and everything!) was of "A Whole New World" when I was about 10-11 years old. After last night's performance, I feel even more inspired to compose my own music and keep arranging and orchestrating.
Overall, "A Whole New World of Alan Menken" was an amazing show, and I thoroughly enjoyed myself. I hope that Mr. Menken will have the opportunity to treat other audiences to this performance in the future. I would highly recommend it!